I've been meaning to write this review for awhile now. I originally found out about this knife from the
Atomic Nerds
I had been looking for a good everyday carry knife and knew I wanted something different. I ordered my knife direct from
Mantis Knives
.
I prefer for my everyday carry knife to have a partially serrated edge, and as this was a turn off for me initially, I contacted Mantis Knives about sometime in the future doing a partially serrated edge on the Monacoe T-5. I came home late on a Saturday evening to find an offer in my e-mail to produce my request if I were to buy two knives. Jared West also offered me the chance to name my knife. I immediately thought of the Porsche Spyder open cockpit sportscars I admire. Just like an open cockpit sportscar is a spyder, the serration that opens up more of the cutting surface, hence the name, spyder. I jumped at this chance and went ahead to place my order.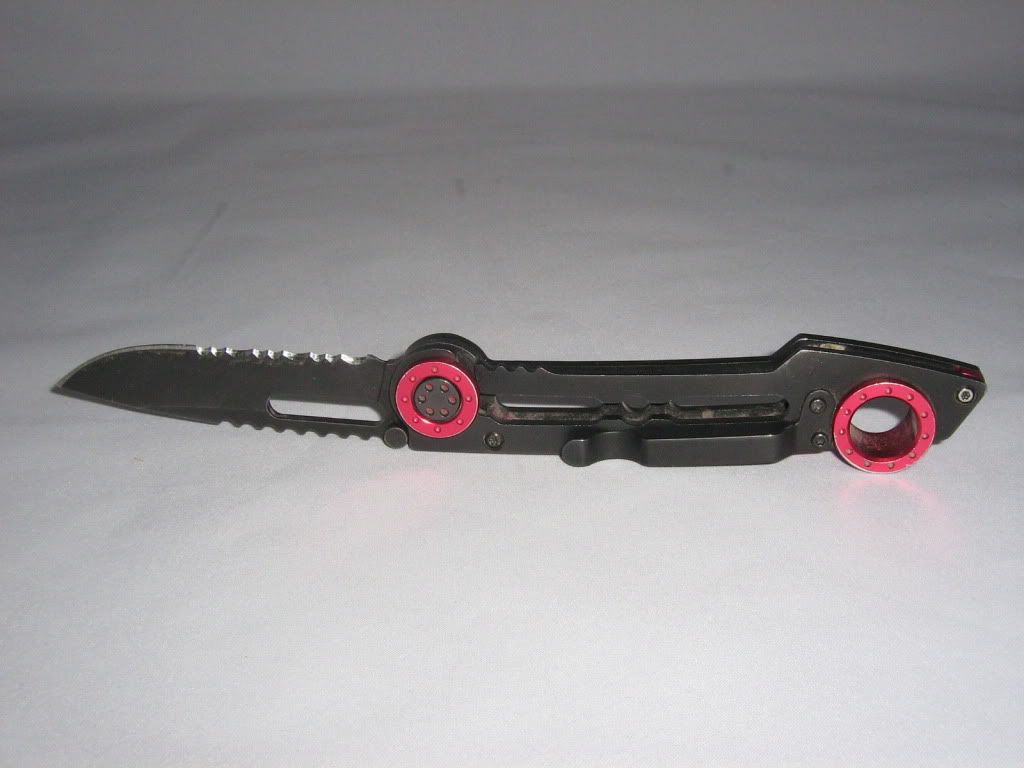 The knife arrived along with a companion nifty keychain,
the B-3 Necessikey
. I'll write a review sometime in the future over that little gem.
The knife itself is inspired by open wheel racecars. viewed from a certain angle, you can see the cockpit and such.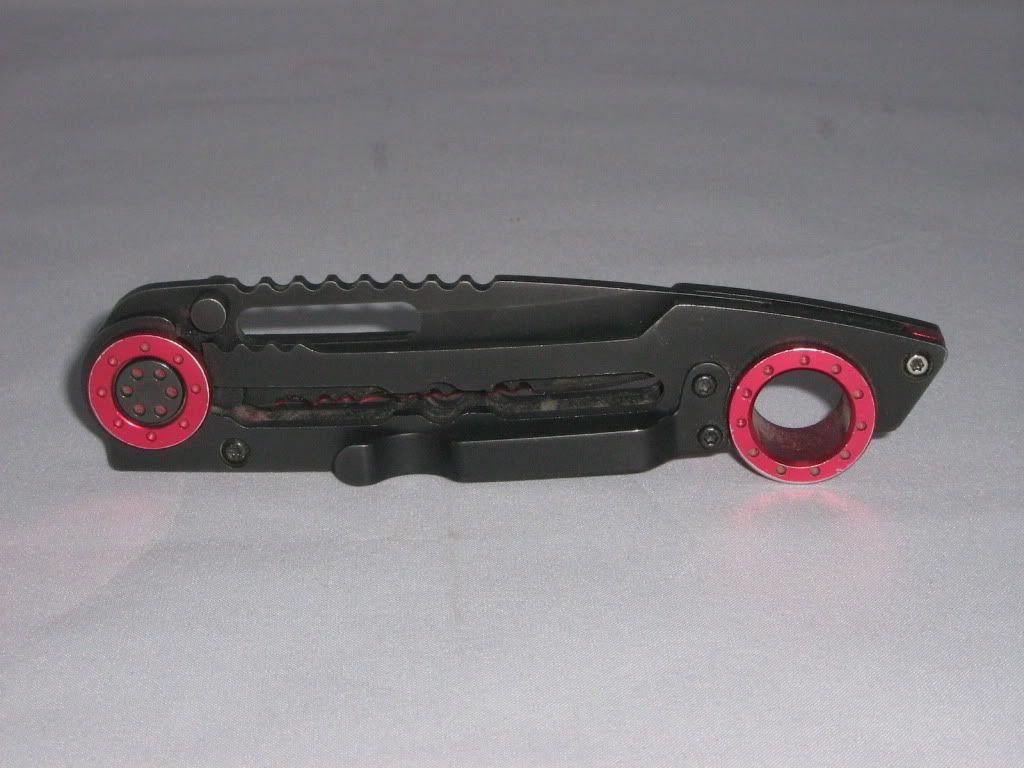 The blade is BG-42 ball bearing stainless steel. It holds an edge quite well, even with the abuse I subject mine to. This is my primary knife I use at work to cut open boxes, peel labels off of boxes and cut through strapping. The serrated edge comes in particularly handy for cutting plastic strapping. The knife is very easy to open one handed with my thumb. That and a snick of the wrist causes the blade to lock in place. The lock is one with the frame so no extra parts that can fail are part of the design. Two descriptions that come to my minds are very elegant and simple.
Obviously this is not a new knife in the picture. I have carried it everyday for over 8 months. In that time I noticed a couple of nagging things. The neat little screen printed Mantis Logo has not worn well. I am proud to carry this knife and I wish for people to know what brand it is. The second thing is the belt clip was loosening up. I guess, what with coming in and out of my pocket twenty to thirty times a day, that it was bound to loosen up. The clip is held on by torx head screws. Torx head screws are the bastard child of some sick individual who had a serious hate on for allen head screws. I could not find at first a torx head screwdriver that was small enough to fit these particular fasteners. I ended up finding what I needed at Lowe's.
Still the screws had wallowed out their holes enough to need more help than I could give them.
I contacted Jared West yet again and he suggested I send the knife back in for service. I did so, and received back the knife you see in the pictures. The clip was firmly attached to the frame and turn around time was second to none.
The knife itself is very avant garde design that suits my aesthetic tastes. Mantis Knives customer service is second to none. When you're dealing with the president of the company on a personal basis, it is comforting to know you're being well taken care of. For those looking for an EDC that doesn't look like it belongs in Rainbow Six strapped to a commando or that Buck knive your grandpa carries, then Mantis Knives fill a niche in the market.
(FTC disclaimer: Not that it's any of the FTC's business, but I bought and paid for it all by myself.)